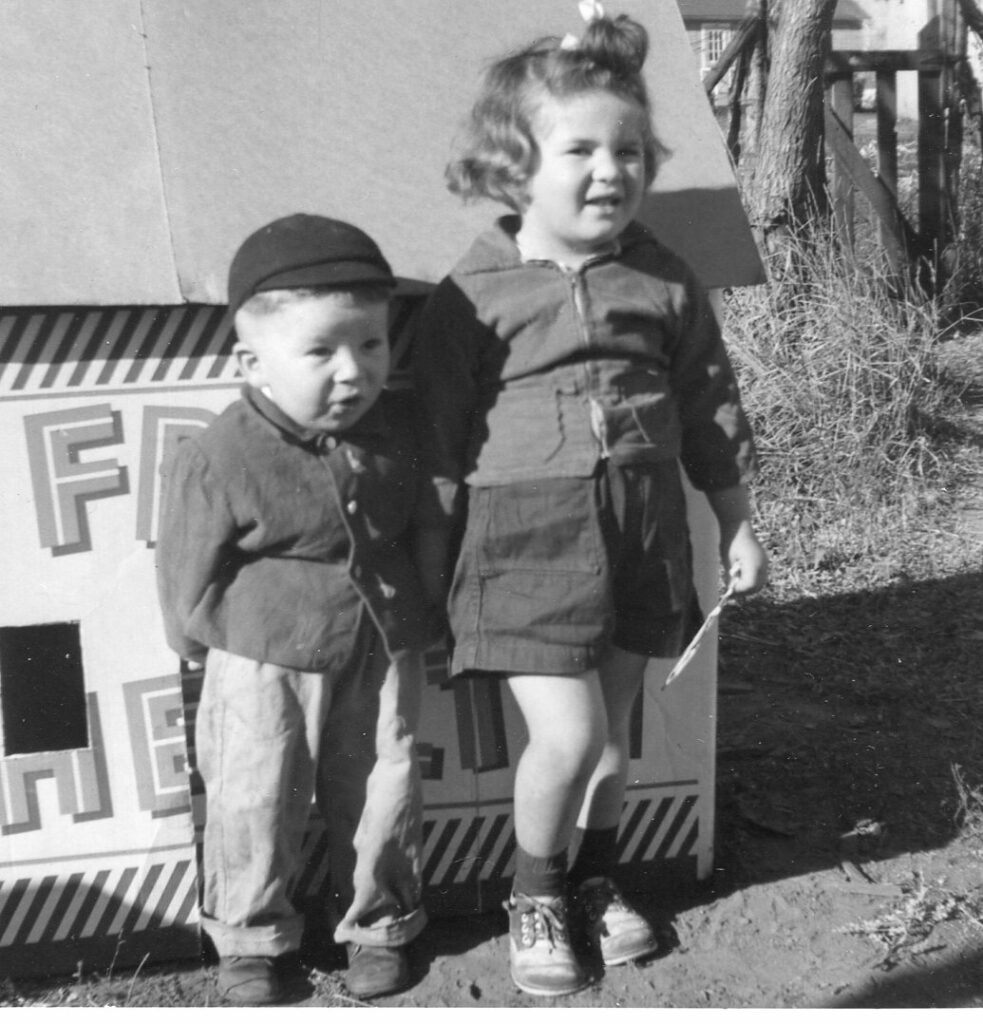 … with apologies to the late Jim Croce of "Time in a Bottle" fame… I'd save all my photos where they would be kept and shared and become a source of wonder: Did they really squeeze toddlers into clothes that were too tight? Or that had to be rolled up or cinched in? (Yes, they did – if you outgrew them before you wore them out, too bad. And if you were the only girl in a passel of boys, you wore a lot of hand-me-downs from other families and "boy" clothes to pass along to les freres. I was in "dungarees" before the hippies.)
"What's that THING behind them?" That, friends, is an apple box. My father cut windows and doors in the cardboard to make a playhouse. I was in charge of the house, of course. Boss girl.
My photos remind me of the past, of moments that I didn't save in a photo because it never occurred to me that I'd want to remember. When I was a child living in a northern fishing village, the first noise on a summer morning was the sound of boat motors as the men left harbour to fish. Who takes a picture of a sound? Or of something as commonplace as those boats were to me?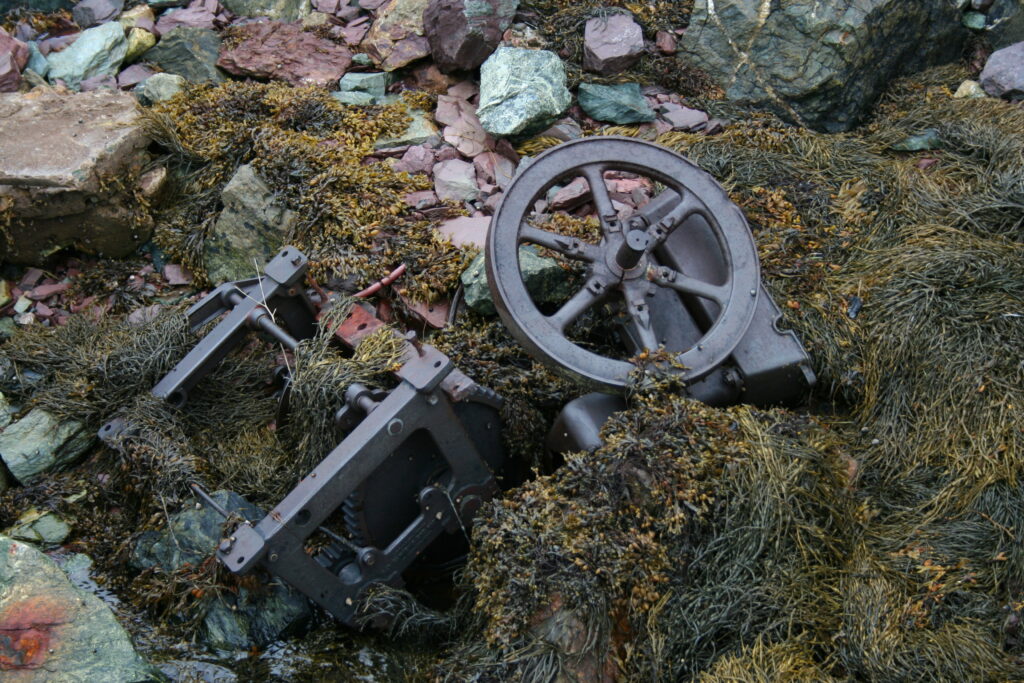 Decades later, at low tide in Burin, in Newfoundland and Labrador, there lay this motor among the seaweed and rocks beside a fishing stage. I remembered the wheel from the fishing boats of my childhood, but the rest of the apparatus I wouldn't know from a donkey's ear. The sight brought back the sound with a level of homesickness I never expected to feel about a put-put-put-put fading into the distance.
Saving images comes to mind right now because I have been sorting through hundreds of old family photos – maybe thousands. I have not counted. Slides, negatives, prints – all of varying quality and many completely unidentified. I have been scanning them into my computer to create digital copies to share with family.
I bought the equipment years ago and taught myself how to digitally copy images for some of my books that included historic photos.
About the same time I joined the Pictou Historical Photograph Society (check their Facebook and web pages). I realized then the value of keeping historic photos – like this one of the Maritime Building in New Glasgow, taken not long before its demolition.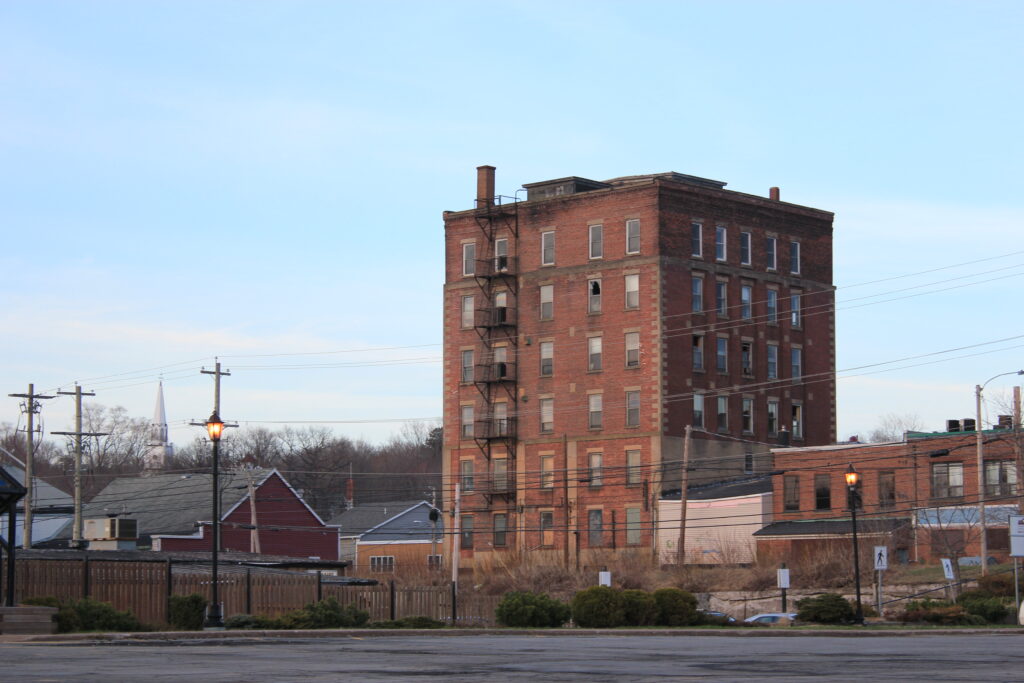 Without the photo or similar proof, one would have a hard time persuading people that New Glasgow once had a skyscraper – albeit a rather short one.
Ordinary photos of familys posed in their gardens or at Christmas dinners give later generations an idea of past traditions, fashions, and customs – reminders of things we never thought we'd forget.
By saving these photos as digital copies, I save space in the cubbyholes under my desk, boxes in my closet, and more boxes on my shelves.
Digital files can be fragile, but so can paper and celluloid.
This task spends time to save time, or times. Times past. Fact – you can't photograph the future.
One more photo, because it's snowing today – and just for fun: