A few days ago, a film crew arrived at my house to – obviously – film. (What else do film crews do?) This particular bunch, Simple Films, produces a series called Final Draft, which examines Nova Scotia's book industry: the writers, the publishers, the illustrators, designers, editors and anyone else who may contribute to any given book. There are not many industries that take someone's thoughts and turn them into a tangible product.
The segment about me is part of Final Draft's third season, aired on Eastlink television.
Now, Simple Films is located just up the road from me, on the edge of the village of River John, and I should have expected that sooner or later I would be on their radar. It was still a surprise when it happened, though, and all I could think: "What do I do to get ready?"
So, I scrubbed. Yep. The floors – a summer's worth of dried grass bits, bugs' legs, shoe dirt, sand, scuffs. Gone. Ditto for the fingermarks on the door jambs and light switches. I swept and vacuumed the dust bunnies generated from weeks of shed dog fur. I hid the cast-off ball caps, socks, work gloves, papers, and other junk – all strewn in full sight around the home for so long that we'd ceased noticing them. Gone, gone, gone.
The thing with a mess is that no one notices when it's cleaned up, but they do when it's not.
I carefully chose my clothing, not too casual, not too fashionable. I had coffee ready to offer, and planned to mix up oatcakes or tea buns. I ran out of time.
I lined up the books I'd written in order of their publication – in case I got stunned and forgot which was which.
The crew of four arrived in three vehicles, with a mountain of gear: cameras, lights, microphones, stands, and gadgets I didn't recognize. Of course, I told them not to worry about removing footwear as they went in and out. Any dirt would be theirs, and could not be traced back to me. Logical. Blame apportioned for the next time someone visited. Right?
They decided to film in the living room, the kitchen, and my office, and rearranged some chairs, tables, and other odds and ends.
They told me my patterned shirt wouldn't work. Did I have something in a solid colour? I changed into a red shirt. Red wasn't good, they said, and then changed their minds – but they nixed my olive green cardigan. I needlessly worried that I'd shiver. Maybe the adrenaline kept me warm.
We had to turn off the fridge, the dehumidifier and anything else that might make a noise and disturb the process.
After a couple of hours we were so gut-foundered that I feared the audio would pick up my stomach growling, but apparently not. All I had ready was coffee. My husband made more.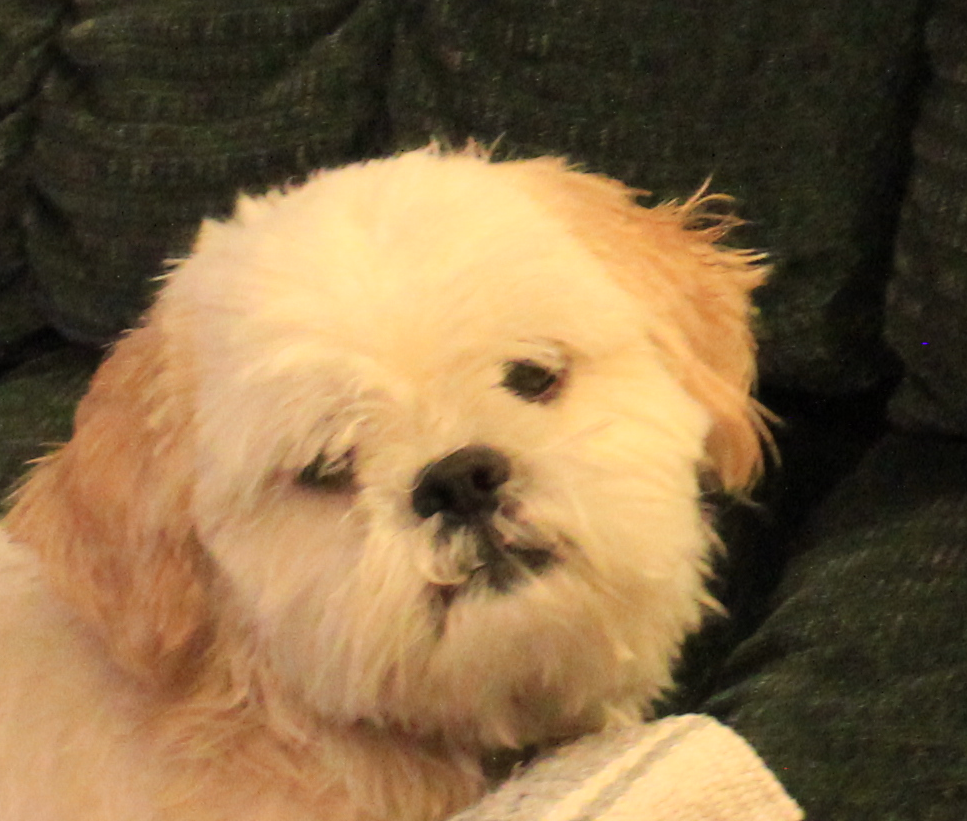 We'd not even thought of the dog. After barking at the intruders, sniffing all twelve wheels on their vehicles, and having his jangly collar removed as extraneous noise, he behaved as if film crews visited every day. That is, until it was time for my interview. As I sat in the living room, looking into the camera, he jumped onto the couch, turned around three times, and settled in beside me, staring imperiously at the interviewer.
He's quiet, leave him there, was the conclusion. So, he was a star – until he decided it was time to give himself a little bath, in the tried and true way of dogs the world over. He chose the moment as I tried to explain something that I will now never remember – because half my brain was trying to figure out how to make him stop!
Upstaged by my dog.
I can say the whole thing went well enough, I guess. It was fun. I'd do it again – but I wouldn't scrub floors on my knees. There would be cookies, or at least crackers and cheese.
And I might lend the dog for the day – depends on the Final Draft of this experience.