I did not expect to receive copies of my newest book, Senior Moment, until the very end of April, or – more likely – early May. Nimbus Publishing had set the print date for April 27, and it takes time to pack books in boxes and load them onto trucks to take them to bookstores.
But it got out of jail free: released to the world around April 7. "I say around," because that's the date the box landed on my doorstep.
A bit of back story: normally, I'd get a card from the post office to go collect a big box, but occasionally the mail driver zips up to the door and drops off parcels, with no interaction necessary. The only problem is that our dog loves her to pieces. He knows the sound of her vehicle, and starts barking and whining to be let out for a visit that will definitely make her late for her extensive route. As a result, she now sneaks out of her car with not even a click from the door, tiptoes up the walk, gently places parcels on the deck chair – and quickly disappears. The dog hears her car leave – as do I – but it's too late!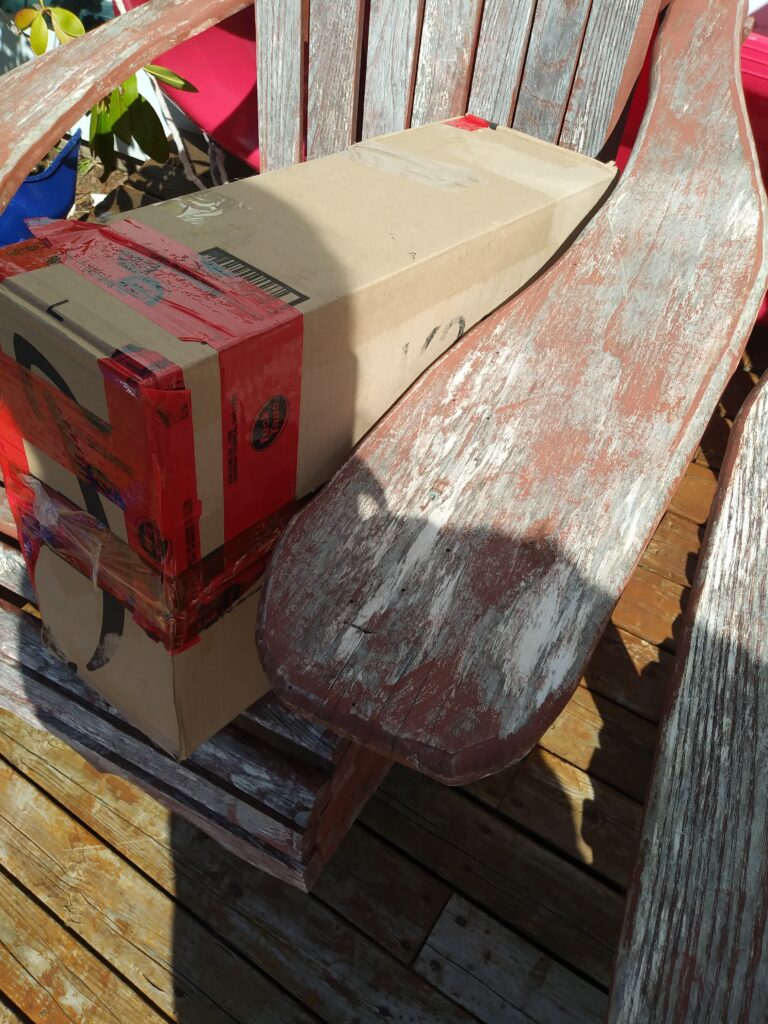 I was not expecting a large parcel from anyone, especially from my publisher – not yet! I sometimes order books online, but just one or two at a time. What could it be?
I ripped open the box and there they were: copies of Senior Moment, nestled in wads of packing paper. The surprise and delight almost exceeded that of Christmas morning!
The first question: Is this real? A mistake? I checked with Nimbus and yes, the book was released and would be at bookstores in a few days.
I called the local Coles bookstore – I say local, but it's 30 kilometres away in New Glasgow – to give the manager a heads up. She is extremely supportive of local writers and we've become friends over the years.
The store had already received copies, another surprise! In fact, they had a big display at the front entrance, not to be missed by passers-by.
The gifts just keep on coming – I am so blessed!
The next step is planning an official launch. It's still Covid-time, and we must be careful. No one wants to be the cause of people getting sick, for sure! So the launch will be smallish – details will be arranged and announced soon.
On May 11, as mentioned in an earlier post, I will be ZOOM reading at Pictou Antigonish Regional Library. Then, on May 15, I expect to be in Halifax for the Giant Book Launch at Nimbus.
Dutifully masked and sanitized, of course!
Because almost every event will be small or online, I expect to meet readers more frequently, and in different places, than I have for previous books… signing here and there and all around the square.
Later on, in August, I will read and sign at Mabel Murple's Book Shoppe and Dreamery in River John – after its season opening. More about that later, but it's always a pleasure to work with owners Sheree Fitch and Gilles Plante.
Amid all that, I am working on more stories. The world is full of them, just waiting to be told. Stay tuned.