Like many events during this pandemic, Read by the Sea Summer Literary Festival has met some rough patches.
Granted, the festival has had glitches in the past: the author is late, someone gets sick, the tents fall down, the toilets clog, pens go dry, the afternoon turns as cold as a mid-March day – or cooks everyone to well-done.
But those are just glitches. Adventures. Last summer, though, the 21st annual festival had to be cancelled. Because – how do you manage coming and going, hand sanitizing and masking, food service, book signings, author interviews, open mic, storytelling and more – among hundreds of mostly strangers from who knows where?
Granted, the festival is usually held outdoors in the Legion garden at River John, Nova Scotia, with lots of room to breathe and stay six feet apart. But there is no turnstile into the garden, no way of controlling the stream of traffic or contacting people should an audience member later contract Covid-19. (Darn. I was trying to blog without using that word-number, but there you go!)
Rain would mean moving to the local fire hall – a spacious venue, but not big enough for the festival crowd if they sat two lobsters away from each other. And weeks ahead of the festival, how could anyone know if it would be rain or shine?
So, no 2020 festival, and the plans were moved to 2021. Serious planning started in February and, again, who knows what things will be like come July? Weather could be handled if pandemic restrictions lifted a bit. A big IF.
Without a crystal ball, it was decided: Read by the Sea 2021 will be virtual – with some odd bits of in-person events thrown in IF all goes well between now and then. Recordings of the authors reading from their works will be posted on the festival website – www.readbythesea.ca – with opportunities for the audience to make comments and ask questions. Pitch the Publisher and other festival are also being pivoted (a special pandemic organizational term!) to virtual. (Check the festival website, find it on Facebook, follow @RJreadbythesea for more information)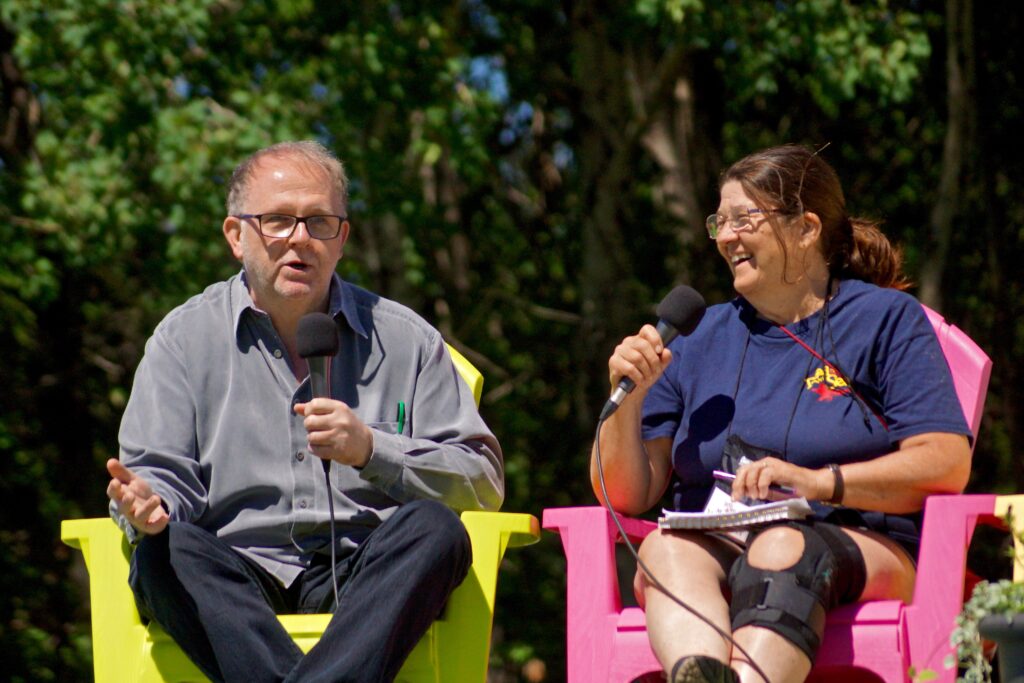 It makes me a bit sad to know that I won't get to schmooze with some of my favorite Canadian authors this summer, but there has to be a silver lining in every cloud and I found it.
Switching to digital means that a lot of people who would normally be unable to visit the festival can now participate. Mobility or hearing problems, lack of transportation to the festival (there are no trains or buses out here on the North Shore!), living far away in another country, or just not having free time during the first July weekend after Canada Day? Those no longer prevent participation. So – jump aboard by jumping online.
Every other festival I prayed for sunshine so I could bask in the summer heat as I listened to the authors reading- it's magical.
This year? I'm hoping for rain, so that folks will look for something interesting to do indoors. Like coming to Read by the Sea.