Confession: I collect children's books. See, my babies are grown, and their babies live far away. There is no longer an opportunity to cozy up on the couch with a pile of kids and pile of storybooks to read out loud  – but I still buy them and READ THEM TO MYSELF. Oh, the guilty pleasure! I give many of them away afterwards, but I keep a special few that are just for me. I tell myself that they are collectibles, like my frog and rock collections, but the truth is: I just like reading kids' books, especially Canadian books.
Growing up, we had lots of books.  Before we could read, Mom or Dad – usually Dad – read to my brothers and me every evening before bedtime. Once we learned to read, we stole away to our beds to finish them by flashlight, under the blankets.
We read everything we got our hands on – yet we never lived in a community with a book store. Our parents ordered cartons of books from Montreal and Toronto:  The Little Golden Books and Wonder Books brands, huge hardcover tomes of nursery rhymes, the brothers Grimm and Hans Christian Andersen's fearful tales, The Wizard of Oz, Winnie the Pooh (or Winnie the Poop, as we called him), Heidi, Honey Bunch, Mary Poppins, Alice in Wonderland,  scores of Noddy books and so many British boarding school stories that I thought walking through the village to school was abnormal. As we got older, Dad read C.S. Lewis' whole Narnia series to us, followed by Tolkein. By that time, I read on my own – right through the little public library's collection of Bobbsey Twins, Nancy Drew, Hardy Boys, Polyanna, and Trixie Belden; plus scores of paperbacks ordered at school from Scholastic. I started reading adult books by Agatha Christie and Rudyard Kipling when I was about eleven or twelve. One long winter I even struggled through War and Peace so I could brag that I'd read the thickest book in the library – but I can't remember a thing about it!
In all that time, the only Canadian books I read were two memorable historic adventure stories by an author who appears lost to time (I can't find him), Ernest Thompson Seton, and Lucy Maud Montgomery (whom I considered a bit boring after reading the Anne books – until I discovered LMM's novel Blue Castle – still a favorite).
I wasn't aware of any other Canadian children's books until I was no longer a child. Now I make up for lost time. #I Read Canadian!
There is a special day to focus on Canadian books, especially those for children. February 17 is I Read Canadian Day. You can learn more at: https://ireadcanadian.com
The challenge is to to "Read Canadian" for 15 minutes and to share the experience at the library, school, with families and friends, or on social media. Young people especially are encouraged to read, or be read to, a Canadian book of their choice.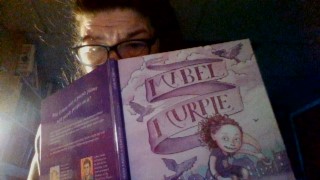 This is my choice of book by a Canadian author – I had to close my eyes to make the selection because decisions are difficult! Mabel Murple, by Sheree Fitch. It didn't take me the full 15 minutes to read it, so I will read it again – and look harder at Sydney Smith's illustrations!